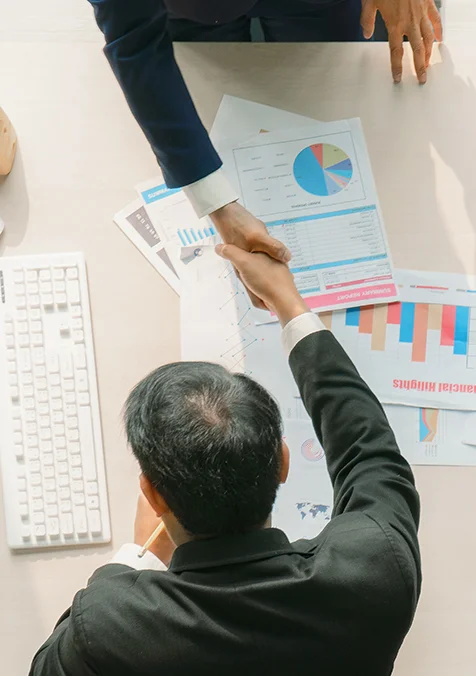 Merger & Acquisitions of Companies
Mergers and Acquisitions (M&A) are complicated transactions between two or more business entities that involve various regulatory laws. Businesses carrying such transactions have to be careful at every step along the way to ensure that the transaction is beneficial to all related parties.
With numerous risks involved, it is advisable to hire seasoned professionals like CM Shah & Co. who are proficient in all legal intricacies concerning M&A transactions.
Our strengths:
We have a panel of experts who can develop a customized M&A strategy that aligns with your goals and objectives.
Our talented team will handle every issue involved in your M&A transaction, be it regulatory, finance, or tax-related. We believe in providing cost-effective solutions that will help you achieve long-term profitable growth.
With our extensive global network and excellent connections with industries worldwide, we help our clients identify the right parties and negotiate with them successfully to attain their objectives.
Benefits of Our Merger & Acquisitions Consultancy Services
Our M&A advisory team is conversant with all the laws applicable to M&A transactions, such as the Companies Act 2013, Income Tax Act 1961, the Competition Act 2002, and Foreign Exchange law. We also know how to deal effectively with post-closure issues that can come in the way of a successful transaction. With our know-how and experience, we will develop time-tested strategies that will put you on the path to success.
You gain these benefits from hiring us M&A:
You Save Valuable Time

As a business owner, your time is very precious, and you cannot afford to waste it. Our professional advisory firm will easily guide you through the process and do all the research and legwork for you.

We Connect you to Many Buyers and Sellers

As expert M&A advisors, we have plenty of connections with industries worldwide, and we will quickly connect you with potential buyers and sellers with whom you can conduct mutually beneficial transactions.

We Take Care of Hurdles that Come in the Way

Sometimes delays can occur during M&A transactions due to unforeseen circumstances like market uncertainties or negotiation mistakes. The advantage of partnering with an experienced consultant like our firm is that we have the expertise to deal with obstacles that can stop your deal's progress.

You Get a Better Deal

As a buyer or seller negotiating on your own, you may end up paying a high purchase price or getting lesser than you expected, But our experienced M&A advisors will get the best deals possible for your business.
Our Merger & Acquisitions Services
We provide these services:
Helping in the evaluation and appraisal of companies.
Identifying and introducing potential buyers or sellers.
Creating and implementing customized acquisition strategies
Getting the most optimum price for the seller
Helping in selecting the right buyer
Planning for contingency situations like a buyer not being able to raise the necessary capital to make the purchase
Support in drafting final legal agreements
Why choose CM Shah for Merger & Acquisitions consultancy services?
We have many years of experience providing M&A consultancy to clients, from identifying and evaluating target companies to helping in structuring and closing deals.
Our guidance has also helped many clients get out of unfavourable agreements that would have resulted in heavy losses.
Our expert team will devise a tailor-made M&A strategy for you after assessing your financial position and understanding your business objectives.
Whether you are seeking a merger to increase your capital base or want to acquire a company to move up the growth curve, we will help you accomplish all your business objectives easily.