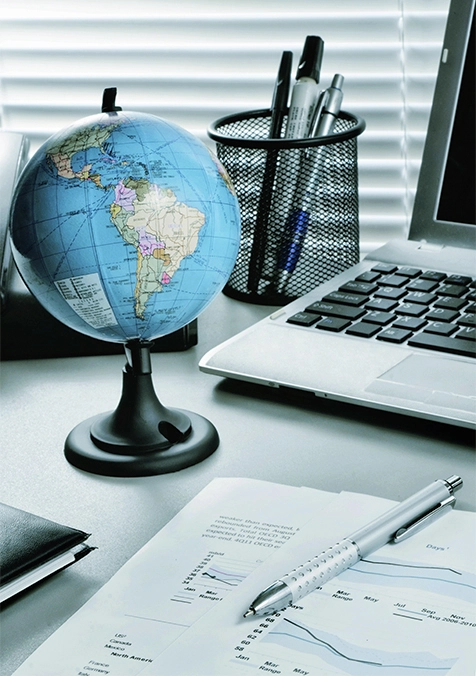 Global Tax And Business Advisory
Many ambitious Indian companies are today trying to enter international markets to tap new investment opportunities, increase sales, and generate more revenues. Operating their business in multiple jurisdictions helps them to reduce costs and gain entry into global markets.
If you also are a firm aiming to get a global reach, you will have to navigate complex international tax laws and deal with other strict regulatory pressures. Since you may find it challenging to handle such complicated matters yourself, you need to entrust your global tax worries to seasoned professionals like CM Shah and Co.
How our Global Tax Services Can Help You
As experienced tax professionals, CM Shah & Co. understands the challenges you may face and will help you comply with the tax laws and protect you against all possible risks.
Our team has tax professionals with relevant experience and competency to help you with legal compliance, cross-border requirements, transfer pricing
transactions, and other tax issues.
We will help you understand the impact of new developments in tax and regulations for your business and prepare you for new challenges you may face.
Our focus will be to ensure you are compliant with the latest tax regulations, reduce your tax burden, and increase cash flow for your business.
Our global tax services will include:
Providing advice on international and cross-border transactions
Helping you understand different aspects of foreign exchange law
Guidance on representation before revenue authorities
Keeping you updated on prevalent legislation and policies
Assisting you to file tax returns
Helping you with compliances and obtaining essential regulatory approvals
Why Hire CM Shah for Global Tax and Business Advisory services?
For attaining your business goals and utilising your resources optimally, strategic planning is a must. However, managing your company's corporate affairs, such as accounting, taxation, and other aspects on your own, is no easy task.
You may not have adequate experience, knowledge, or the time to handle all these by yourself. That is why you need to utilise the services of seasoned professionals like CM Shah and Co., who can assist you in managing your organisational needs in a better way. We provide timely advisory services, which can help you in expansion and make your operations efficient.
Here is how our Business Advisors can help you
Our team, with its professional knowledge and experience in diverse industries, will help you in the following ways:
Recommending changes to improve the efficiency of your business operations
Preparing budgets and analysing your financial records
Conducting risk analysis and helping you mitigate and manage risks
Helping you improve your sales, marketing, and branding strategies
Ensuring quality and safety requirements are met
Providing solutions to problems identified on analysing your data
Identifying opportunities for business expansion
Giving timely and accurate information to help you make informed decisions
Planning cash flow
Overseeing restructuring processes like mergers, demergers, or amalgamation
Assistance in conducting business negotiations
Why Should you Partner with CM Shah & Co.?
Our team consists of skilled and experienced accounting, legal, and taxation experts with varied business backgrounds.
We will understand all aspects of your business and offer customised solutions apt for your specific requirements.
Our inputs will help you utilise your resources to the maximum and improve productivity and efficiency.
With our assistance, your business can comply with regulations and stay out of trouble with tax authorities.
We will help enhance your goodwill and create a strong foothold in the domestic and international markets.
With our expert team's guidance, you will be able to handle complex and burdensome tax issues, comply with statutory requirements, and utilise your resources optimally.
We will help you to be prepared for changes and challenges that are inevitable when you expand your business operations globally.
Our experts will help you become more aware of your positioning in your market and understand your competitors and their strategies.
Our well-researched market analysis will help you know your customers better and improve your relationships with them.
With our strategic financial plans, you can minimise losses and make the maximum profit out of your business.