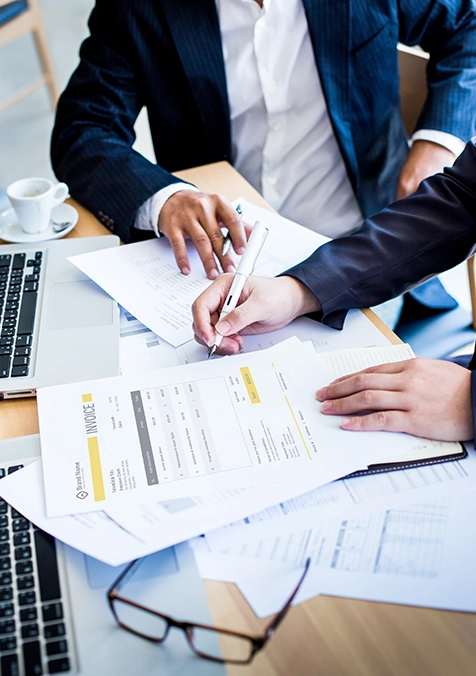 GST Advisory and Opinion
As a business person, you need to be aware of GST implications and be in constant touch with the latest changes in rules to ensure your business runs smoothly.
At CM Shah, our experts will help you in the following ways:
We will provide a wide array of GST advisory services to help you tackle various GST-related issues, obtain refunds, get GST audits, and so on.
Identifying opportunities for reducing your GST liabilities and maximizing your cash flow.
We will help you implement changes in your business processes, like introducing systems for billing or receiving advances and payments.
Our team will identify alternate business models that will help you manage taxes more efficiently.
What is Included in our Advisory Services?
After its introduction in 2017, GST has impacted every aspect of business transactions, whether the pricing of goods and services, the distribution system, or accounting, in a big way. It has brought with it many changes in tax rules and also the need to incorporate technology for reporting requirements. Our GST advisory services will consist of the following:
Understanding the Impact of GST on your Business
We will evaluate the impact of GST on your business and the pricing of products due to changes in tax rates. Our team will also analyze its impact on outward supplies and procurement of inputs or input services. We will look into the availability of input tax credits.
Improving your Operations for Better Tax Efficiency
We will look at your business model and identify the loopholes in its operations. Our team will identify other business models that will help you achieve improved tax efficiency. We will also identify the potential risks in these models and guide you on how to mitigate such risks.
Helping you Implement GST Smoothly
Our team will help you register your business for GST. and assist you in bringing changes to your business processes, including accounting and internal controls. You will get support on how to implement changes in documentation and policies to comply with GST requirements. We will also advise on how you can recover tax from your consumers.
Making Changes to Your IT System/h3>
We will advise on how to generate reports required for GST purposes. You will be assisted on how to structure GST-related documents like credit or debit notes or invoices. Our team will perform UAT testing and report our observations to the management.
Developing a GST Plan
Our GST experts will identify the opportunities that will help you reduce your GST obligations while improving cash flow and maximizing profits.
Helping you Stay Compliant
We will help you file periodic and annual returns in all the states where you are registered, thereby enabling you to avoid penalties and disciplinary action by government authorities.
Why entrust CM Shah for GST Advisory Services?
We have a team of dedicated personnel, including chartered accountants, IT engineers, MBAs, and tax experts, with diverse industry experience.
Our professionals have worked with clients belonging to industries like pharma, retail, food and beverages, manufacturing, and many more.
We provide technology and a knowledge-driven approach to help our clients cope with the challenges brought about by GST and optimize their business operations.
We study the impact of GST on every area of your business and help you capitalize on opportunities to lessen your tax liabilities and increase your return on investment.
Our experts will train your personnel in your legal, finance, sales, and marketing departments so that your skills match the current GST requirements.
With our help, you will easily adjust to the new GST-related changes and take your business to new levels of success.