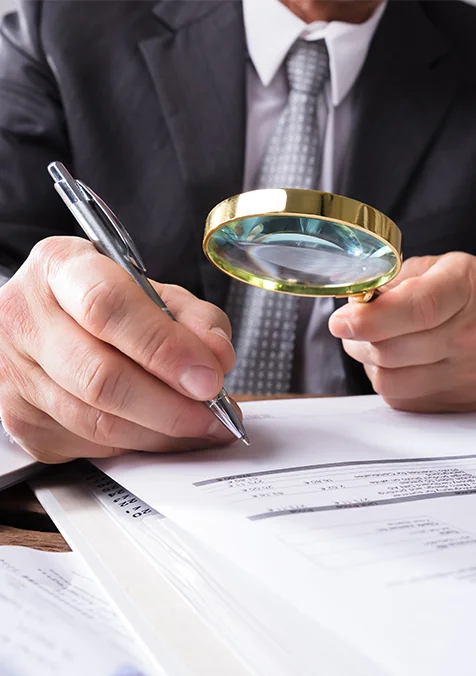 Forensic/Investigation Audit
A forensic audit or investigation audit is the process where a third-party audit firm is appointed to determine whether the organisation can face a possible scam or has been a victim in the past. It recovers all the data and puts it through the court of justice, where the fraudulent organisation may face disciplinary charges. Therefore, conducting a forensic audit regularly is very crucial to avoid legal proceedings unnecessarily.
Why do you Need our Forensic Audit Services?
Our forensic audit services help in these ways:
Detect Corruption
Our team consists of professionals who have been working on forensic audits for years now. They create a structure of various credentials that points towards a potentially corrupted working system. The credentials include records for bribes, extortion and multiple conflicts of interest. If any of these points are found to match, legal proceedings can be conducted under the punishment of corruption.
Asset Irregulation
This is a common way a company performs fraud acts, for example, creating fake bills and invoices, theft or separation of inventory, illegal clearing of payments and many more. This can lead to severe punishments, and it is our forensic auditor's job to locate these misappropriations.
Illegal Financial Statement
Another common way a company provides its well-being into the market is by showing fake and illegal financial statements. Usually, it is done in such a way that the particular company's performance is forcefully improved. This attracts better revenue and liquidity of funds. Showing illegal and fraudulent financial statements is a grave crime, and this is where our team can help you with its expertise.
How Does CM Shah & Co. Conduct Forensic Audit?
Our team of highly trained professionals has conducted forensic audits for numerous companies and businesses. The basic steps are discussed herewith.
Creating a Structure
There are various topics on which a forensic audit can be carried out. When an auditor is hired, the company has to provide them with a targeted reason for which the audit needs to be conducted. Accordingly, the forensic auditor creates a structure on which they can move and investigate the core issue of the problem.
Determining Proper Evidence|
After the proper structure is created, the auditor now needs to collect solid evidence against the issues on board to prove them to be fraudulent and scam. This evidence then helps identify the actual fraudster and put them in front of the court of justice. These documents of evidence may include money receipts or invoices claimed from the fraudster and other related documents. A particular way of providing these documents helps the court to judge the case better.
Final Interview
A report is created in the first place against the fraudster, along with all the necessary documents and an investigation summary. The report would also consist of suggestions of various methods for improvement in internal risk controls.
Next, our forensic auditor is summoned to the court for the legal proceedings along with the client. There, along with all the evidence and investigation summary, the court decides and gives its verdict. Accordingly, changes and updates are suggested, with the fraudster having a possible penalty.
Why Hire CM Shah for Forensic Audit?
With years of experience in audits, our forensic auditor handles the entire proceedings expertly and solves our client's cases concerning frauds and scams.
We prevent the financial losses that may occur as a consequence of such illegal activities.
Our timely services help you focus stress-free on running your business operations efficiently.